As exceptional as the 1st time I worked with Kevin and his team. Fast, simple and knowledgeable, I look forward to continue working with them in the future. It is so nice to work with people that actually know what they are talking about!




We ran into a couple of set backs and the team went out of their way to get us back on track and we closed on time! Thank you


This process could not have gone better. Great experience.

You're next!
Join the ranks of our 200,000+ Proud Veteran Homeowners nationwide.


Nick Kundert and Veterans United supported me every step of the way. They made me feel like we are all family and it made the experience easy everything from loan process to home owners insurance was taken care of swiftly. Being a Marine Veteran and Nick also being Marine Veteran himself we instantly had that "esprit de corps" to get the mission accomplished. I can see that Marine core values never left him being a civi now. I thank Nick Kundert and Veterans United for the great support and making this whole experience a breeze. Semper Fi!

Veterans United made the home buying experience wonderful. From the beginning I felt comfortable and confident with my choice. Throughout the process I had a network of people working for me. Veterans United provided me with a loan officer, a veteran realtor, and a partner insurance company. They worked closely with each other to make things easier for me. I would recommend Veterans United to anyone looking to buy a home.


While this purchase did go through, I had one other that fell through, I know this was from the va appraisal and evaluation, which was absolutely absurd. Unfortunately during that purchase I never felt like veterans united was in my corner to help fight for the correct information. There was very little help in regards to reasoning with the VA and ultimately the much larger sale fell through. While I may use veterans united again if I need to I will never use the VA loan again, it is an absolute nightmare to jump through and may as well be useless to many of us who served. Disgraceful, but that's what I expect from the VA.




Had to pick up the ball and run it myself a couple times. Remember you are your own best advocate.

You're next!
Join the ranks of our 200,000+ Proud Veteran Homeowners nationwide.
Awesome job very easy to work with. Also very knowledgeable

I would like more transparency on how credit scores are calculated. There was a roughly 80 point decrease in what VU pulled versus what my consumer credit reports showed. I believe that is too big of a discrepancy.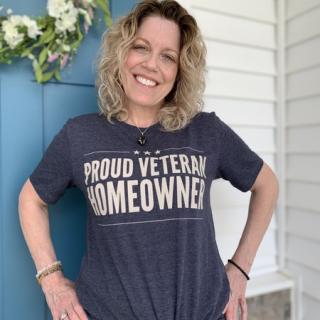 Buying your first home is stressful. From the minute I called Veterans United home loans they made me feel at ease. Their team goes above and beyond to help you not only finace your home, but they help find the best real estate agent to help you find the home of your dreams. Their whole team took the time to explain everything regarding my VA loan to me. To all my fellow Veterans who are in the process of buying a home, or refinancing a home I highly suggest you call Veterans United home loans. I had a great experience with them and you will too.

It was a longer road than I anticipated but I have my home!!!